SCOLIOSIS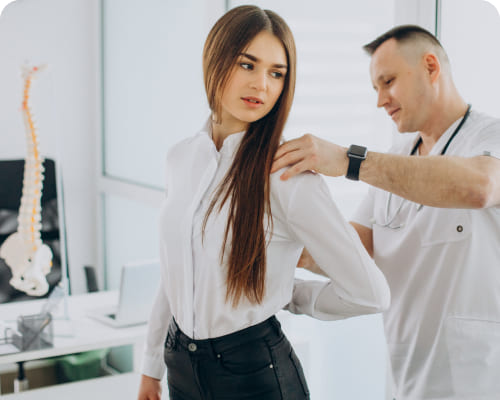 Scoliosis Treatment and Pain Relief from Scoliosis is just a phone call away
at the Spinal Recovery Center! Serving Warren MI, Sterling Heights MI, and Metro Detroit.
Most Scoliosis Treatment are DESIGNED the same, but not all physicians are the same!
Know your Doctor:
One of only 3 Chiropractic Neurologists in Michigan
Over 18 years of Combined Experience
American Academy of Disability Evaluating Physicians
Diplomat American Academy of Pain Management
Relief from pain and discomfort associated with Scoliosis is now available in the Detroit area. Call us today and see if you are a candidate for this revolutionary non surgical treatment.
Do you suffer from or are you being told that you have a herniated disc? If so, please stop what you are doing and call Spinal Recovery Center today! Over 70% of our patients suffer from a herniated disc and nobody offers the comprehensive care that Spinal Recovery Center does.
FAQ
Treatment for Scoliosis at the Spinal Recovery Center
Treatment of scoliosis is based on the severity of the curve and the chances of the curve getting worse. Certain types of scoliosis have a greater chance of getting worse, so the type of scoliosis also helps to determine the proper treatment. There are a few categories of treatment: observation, bracing, surgery AND the Non-Surgical approach in use at the Spinal Recovery Center.
Functional Scoliosis is caused by an abnormality elsewhere in the body. This type of scoliosis is treated by treating that abnormality, such as a difference in leg length. A small wedge can be placed in the shoe to help even out the leg length and prevent the spine from curving. There is no direct treatment of the spine because the spine is normal in these people.
Neuromuscular Scoliosis is caused by an abnormal development of the bones of the spine. These types of scoliosis have the greatest chance for getting worse. Observation and bracing do not normally work well for these people. Some people may eventually need surgery to stop the curve from getting worse, but at the Spinal Recovery we have several non-surgical steps that can be taken.