Spinal Decompression Relief is now available in the Detroit area. Call us today and see if you are a candidate for this revolutionary non surgical treatment!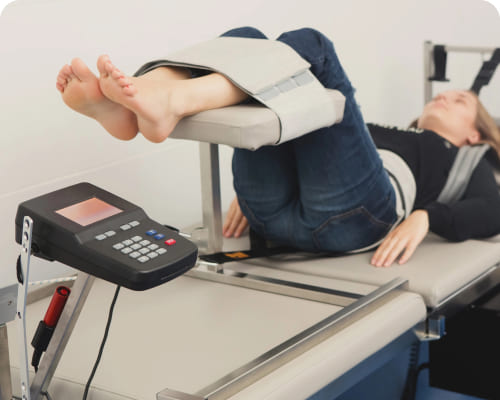 All Spinal Decompression Therapy is designed the same, but not all physicians are the same!
Know your Doctor:
One of only 3 Chiropractic Neurologists in Michigan
Over 18 years of Combined Experience
American Academy of Disability Evaluating Physicians
Diplomat American Academy of Pain Management
You are a candidate for this treatment if you have:
Chronic and/or severe back pain
Uncertain or poor prognosis
Failed back syndrome
Long term probability for drug use
Failed back surgery
Future anticipated need for surgery
FAQ
How is Decompression Therapy Administered?
Spinal Decompression therapy is administered through the Triton DTS, a state-of-the-art computer directed spinal-rehab system.
The Triton DTS is certified to deliver therapeutic treatment forces in a comfortable and soothing manner. The spinal decompression process gently pulls, holds, and releases the spine in a cycle that lasts about 1 minute. This process will happen repeatedly for 20 minutes.
What Results Can I Expect From Spinal Decompression?
Normally when pulls are exerted on the spine, such as in conventional traction, the muscles respond by tightening. This is known as the proprioceptive block. Because of the special cycling action, the body does not respond by tightening the muscles, thus making the treatment extremely comfortable as well as effective.
When this treatment cycle is directed to a specific dysfunctional spinal segment it promotes several physiological responses. It can help mobilize a facet joint, strengthen the spine, relieve pressure on a nerve, decompress a disc, or create an influx of oxygen, blood flow, and nutrients into the affected area.